We are thrilled to announce Sunshine Coast Orthopaedic Group's very own, A/Prof Daevyd Rodda, our highly experienced and widely recognised hip and knee replacement surgeon, has completed his 1000th Medacta MyKnee knee replacement surgery.
"The greatest pleasure in my career is to see my patients being pain-free and getting back to the activities they love after joint replacement surgery. My experience in performing over 1000 knee replacements using MyKnee technology has allowed me to consistently get more patients back to much higher levels of activity than I ever thought possible. Having this cutting-edge technology available on the Sunshine Coast has been a game-changer for my practice and my patients." A/Prof Daevyd Rodda
What is Medacta MyKnee?
Medacta MyKnee is an advanced and innovative technology used in knee replacement surgeries. It is designed to provide a personalised and precise approach to knee replacement procedures, tailoring the treatment to each patient's unique anatomy and needs. The system combines cutting-edge imaging, patient-specific instruments, and meticulous preoperative planning to optimise surgical outcomes and enhance patient satisfaction.
Why choose a Myknee operation?
The MyKnee technology enhances the benefits of a standard knee replacement by offering a
more accurate, faster and less traumatic procedure through the use of surgical instruments
tailored to each patient.
More accurate positioning of the prosthesis[1-10]
MyKnee fits the shape of the knee accurately, allowing for precise preparation of the bone for implanting the prosthesis. Each phase of the operation is planned in advance by the surgeon based on the analysis of a 3D model of the knee and taking into account the patient's condition. It has been proven that an accurate positioning results in increased survival of the prosthesis.
Less traumatic procedure[14-16]
Conventional procedures require damaging the anatomic structures (e.g., the medullary canal) in order to position the surgical instruments used to implant the prosthesis. MyKnee preserves these structures, allowing for a significant decrease of blood loss and risk of embolism.
Faster surgery[1-13,17]
The use of the MyKnee technology is very simple and straightforward. It potentially allows the surgeon to reduce the operating time, thus decreasing the time under anaesthetic and the risk of infection.
Join Us in Celebrating A/Prof Daevyd Rodda's Achievement
As the team at Sunshine Coast Orthopaedic Group celebrates A/Prof Daevyd Rodda's milestone of completing his 1000th knee replacement using Medacta MyKnee technology, we also recognise the profound impact he has had on the lives of countless patients.
If you or a loved one are considering hip or knee replacement surgery, Contact us today to schedule a consultation.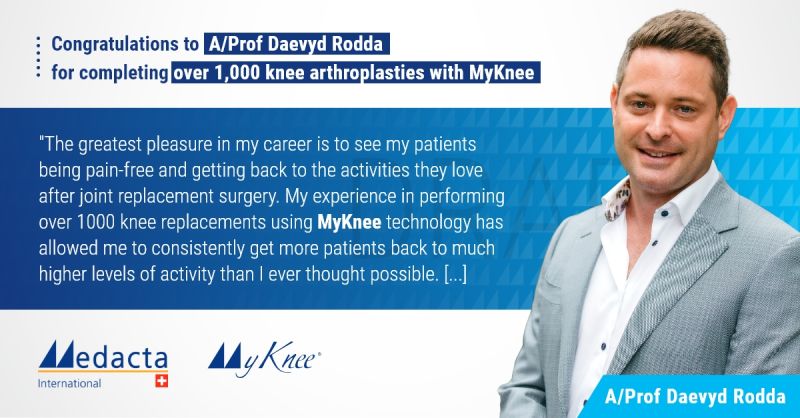 More information on Medacta MyKnee and references cited can be found here.